How does previous night's dinner make you late to work the next morning? When you must explode with something fancy in the toilet. But hot damn the Southern Thai food was good on the way in. Yes, this is another talk on bowel movements, but this time, there is good food associated with said pain.
From the degustation menu that evening was a hand tailored speshul order as phoned in by Mr. Erik M himself…
sup hang wua: mild, Southern Thai-style oxtail soup

This soup is a bit sour, first raved by Erik on LTHforum nearly 2 years ago now. It's a bit bovine, with a huge hits of lemon grass and shallots and in our case, fieriously spicy. It puts sullungtang to shame. Have I mentioned how much I HATE sullungtang?
phat luuk taw "Meuang Khon": stir-fried sator beans with shrimp, pork, and squid

hot wok yielded tender seafood; 2 kinds of umami mixed in with stink beans = umami cubed. it's like a great Chinese stir fry, kicked up to the N-th degree. Mr. J Gold said sator beans smelled. I like stinky tofu crawls. Figure it out.
phak bung fai daeng: stir-fried water spinach with dried chile and yellow beans
Erik really likes stir fried Empty Heart Vegetable. (apparently as does every Chinese chic?). He's a great inspiration to us all, so this dish is always eaten on his behalf.
kung phae chup khreuang thawt : deep-fried shrimp with crispy tea leaves
Perfectly fried large prawns with a curry paste based batter, and topped with deep fried tea leaves. 6 types of flavors dancing on your tongue. There is nothing coming out of the Bazaar with this much texture and flavor, not even with their foams and jamon.
khua kling "Phat Lung" : spicy, turmeric-flavoured "dry" curry with beef
This is the most oft discussed dish in all of Jitlada-dom. Mr. Gold spoke of this last nite (March 11) during the Zocalo panel. There are at LEAST 6 blogs covering this dish. Let's not be another one:
B-side Blog on the dry tumeric beef curry
Taste Buzz on Jitlada (tho TB doesn't really DO spicy food)
Potatototamo does the chicken version
FoodGPS takes 2 trips to Jitlada last Jan
It got love from Girl on Girl Action as early as July of '07
And of course Pat of Eating LA was the one who blew it up huge in LA
Not even FoodMarathon could hang with the heat
Folks who attended J Gold's "Gold Standard" should be keenly aware of khua kling "Phat Lung":
Eating LA took photos of Jitlada's booth
Chowhounder's write of this dry beef curry's face tearing spiciness during the Gold Standard event as well.
kaeng hawy bai cha-phluu : spicy, turmeric-seasoned curry with baby
clams and wild tea leaves

Yet again, tea leaves. Tea's good for you, keep eating it. Baby clams are fun and chewy; adds a hint of seafood flavor to the already complex tumeric curry (coconut based). This is the dish that put the S in spicy. As soon as the thickened curry hits your stomach, the stomach wants to hit you back.
and straight from Erik himself:
kaeng leuang "Thalaa"
-This is one of their signature dishes, and it includes catfish steaks
and pickled bamboo in a watery (no coconut milk), fiery curry broth.
It's pretty hardcore…
(all translations courtesy of Erik, obviously I don't speak Thai)
It's been exactly a year since the big Jitlada throw-down dinner with 20+ peoples and 14+ dishes. Must be honest here: since the Gourmet magazine write up, shortly followed by Mr. Gold's review, I have not actually sat down for a complete meal @ Jitlada. Yes, there were many quick visits with out of town friends, first timers, lovers of spicy food, but nothing as exotic, well thought, well supported, well prepared as this particular meal late Feb of '09.
Others have mentioned the release of 70+ Southern dishes in January, but with the onslaught of diners packing the rooms from Thursday-Sunday, the thought of new Southern Delights weren't enough to battle the masses; until that random Monday.
We came, we ate, we burned.
And yes, Gourmet dedicated a few columns to Jitlada again last month. But you still won't know what to order. You'll see everyone taking pix of the green mussel in curry, the lamb curry popularized by Yelp, the mango coconut salad, etc. Not here, let's do it big. 6 courses, 3 stomachs. No need for taco trucks after, only Pepto.
My only complain is the beef quality in the tumeric dry curry beef. As always, it's the same used for nua sawan (beef jerky) and it's always just a bit too chewy, too tough. At the Gold Standard, the tumeric dry curry beef was a tad too salty. Understandably, this dish has become a bit of a Jitlada institution, but it's one that never hits home. YMMV.
PS. This pix of the Fishball stuffed with salted duck yoke ?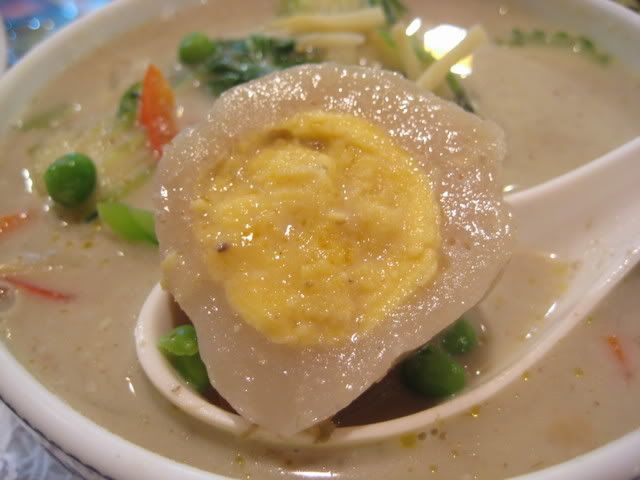 Was taken June 20, 2009, 2 days before Pat's INFAMOUS
Chowhound post
Comments
comments
Browse Timeline