The Kos called an instagramed photo of Hyperion Public's fried chicken French toast "brown food", but I will now refrain from calling this place bad names like I did on Twitter. Hyperion Public has a fantastic social media person that's keenly aware of all the reviews on Yelp/Facebook/Twitter, etc. Kudos to them for having that in place. Now, please, for the love of Silver Lake hungover hipsters, get a new chef, fire the kitchen staff (save the dish washers, I'm sure they're doing a great job), and design a new weekend brunch menu. In fact, probably re-design the dinner menu as well (really, a Mac and Cheese menu? Are we still in the last decade?)
Last week, people on the interwebz (including myself) asked for the HP's menu to be posted on its own webpage, or, at least on facebook, or hell, tweet a picture of the menu. You can google "Hyperion Public" to death, but you won't find a menu, except a lame duck version on Yelp. HP's twitter handler didn't respond upon request, neither did the Facebook handler. I'm assuming it's the same handler. So, it's almost 2013, this is a nicely designed restaurant that is "for the people" — and I'm assuming Silver Lake contains plenty of people with internet access — but no one's allowed to peruse the bill of fare before visiting. And it's the first or second weekend of brunch service, so even Yelpers reviews have not covered brunch. But let's look past that because we're making Hyperion Public's brunch menu available to the public, for the public, right here.
The room is pleasant in that Edison-bulb, espresso wood type of way. It's updated and casual, if not a bit dark due to the fact that this is essentially a repurposed 2-story commercial building. The wait staff was fine, even if someone was heard dropping F-bombs in the back bar since the restaurant was whisper quite at 10:30 A.M. I love F-bombs with my brunch bloody mary, but there were no alcoholic beverages offered during this weekend brunch/lunch. Some may say 10:30 A.M. is too early for booze. Thankfully, MB Post disagrees. Note to HP: get everyone a cocktail menu, take the proceeds from alcohol sales and contribute it into the food ingredients. Also, spend some time educating the staff on what joe you're serving (Cafecito Organico, coffee only).

So far, not so bad. But then the interminable wait hits. Nearly 20 minutes after the short order (glorified egg sandwich, fried chicken and French toast) was placed, the food finally arrives. During this wait, the previously mentioned F-bomb was dropped from the sky, but no one else bothered to check in. No explanation why it took 20 minutes for a over easy eggs and some French toast to arrive. Perhaps Hyperion Public is still rooted in the tradition all entrees must be served concurrently. Perhaps Hyperion Public should train its staff to ask if food can arrive as ready. Perhaps Hyperion Public's kitchen should cook fucking faster. How's that for an aliterating F-bomb? In the mean time, I was walking back and forth on Hyperion Ave's sidewalk when I spotted saw the open door to the kitchen which is "next" door to the store front. This was a populous cooking space: at least 2 on the hot station, one other cook who walked in and out; and one chef, and another prep cook. [NB: these are casual observations — the exact cook positions are not exact.] That's 5 people, not including bussers, dish washers, furiously doing "not much" in the kitchen. Five people couldn't produce 2 orders of breakfast in 20 minutes. That entire room full is a waste of Chefwear and should be embarrassed of itself.

$11 for a sandwich with two slices of bacon, eggs, generic cheddar, chopped fruit.
Eggs over-easy, fried bacon, in between sliced brioche, takes less than ten minutes. A griddle station full of Chinese or Korean cooks would've churned that sandwich out in seven. Don't believe me? Go to the Basket Burger in East LA (Korean owned), or visit any Tasty Garden Restaurant (Chinese owned). They can wok up plate fulls of beef chow fun under ten.
It gets worse. When the fried chicken and french toast arrived, it was a picture of high brow gone low brow. Pann's by LAX dishes a killer fried chicken and waffles. It's half of a large waffles, with 2 hot, plump pieces of crispy fried chicken wings. The platter, while sporting some very SYSCO-esque ingredients, is physically appealing, and it's only $10. This is no secret — 116 Yelp write-ups covers the better (versus Roscoe's) chicken and waffles dish. Of course one would expect something comparable when the words "fried chicken and French toast" appears on the menu for $12. Then this arrived:

The offending party
What actually transpired were two pieces of luke warm wheat Wonderbread, cut into four, accompanied by pieces of fried nuggets, obviously quartered from a chicken breast. The white meat falls out of the batter sgekk after a bite is taken, thus requiring the inelegant consumption of whole nuggets in one bite. That's right, if you want some crispy batter to go with that poultry, you mustn't bite into that chicken nugget. The whole plate is straight outta Denny's, which is way worse than anything from Straight Outta Compton. In contract, The Parish, with nearly everything made in house, offers a fried chicken biscuit sandwich for only $4. Look at this brined chicken deliciousness ensconced in Brooke Mosley's pretty biscuits: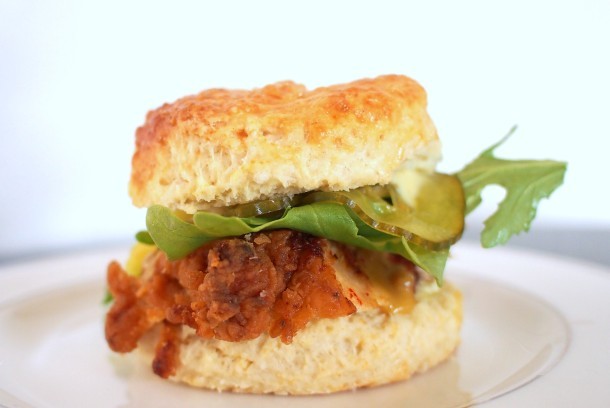 So, it took nearly 20 minutes for these chicken nuggets (definitely made in-house, so I appreciate that little bit) to arrive. If these clucks were still bone-in, the wait would be a bit more understandable. If the bread used was challah, or brioche, the wait would be also a bit understandable. However, this is your Rick's Burger French toast. And Rick's can churn these out, along with breakfast burritos, in about 10 minutes, so can the dinky the J&S #2 24 hour taco stand that I oft drive by.
It's not that we're all Silver Lake snobs demanding farm fresh produce from Silver Lake Farms. Everybody eats addicting bad-for-you tacos al pastor, I am no exception. The prices, as well as the menu, suggest there is no farm-to-fork system in place here, and everyone seems to be OK with that. But please, stop quoting de Toqueville, stop voicing the indignation over the failure Prop 37, stop trying to be Abe Lincoln, stop the speakeasy shtick while serving SYSCO junk and profiting from $12 cocktail. Just stop (collaborate and listen?), and fix the culinary offerings. Fix it before the South decides to revolt against the Yanks again.
Then again, maybe the dinner menu fares better. O, in case you were wondering, this is the dinner menu. You can't find it on their website, so feel free to email thank you notes now.
Hyperion Public
On Hyperion somewhere close to Barbrix, Silver Lake

Comments
comments
Post Tags:
Browse Timeline