Surprisingly not bad.
It even appeared as photographed by the Spearmint Rhino. This is what someone else's burger looked like as borrowed from foursquare.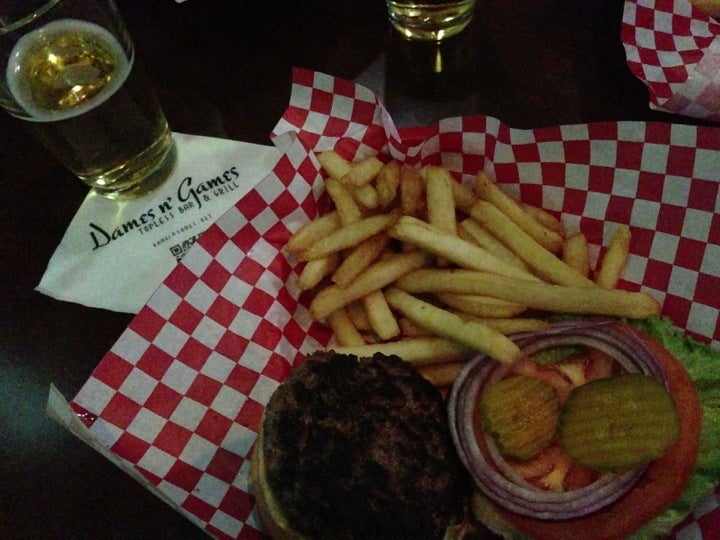 Mine came speared by a wooden stake that proclaimed "medium rare". In reality, it was nearly well. On the other hand, the cheese was nicely melted, the patty was thick, the lettuce and tomato all showed some semblance of knife work. Certainly it's many times better than the $2 atrocity that is the McCormick's Happy Hour burger. I'd venture to say it was better than any In-N-Out burger. Better than Five Guys? Absolutely.
The biggest problem with actually eating this burger is the guilt attached to the price tag. We all know these women are trying to make it through nursing school. The bill comes in at $3. The entrance cover charge, at least until probably Christmas time, when no one in their right mind is hitting the tittay bar, is free. Can anyone deny these women their education? I certainly couldn't, and ended up tipping 200%. In the end, the various sets of mammaries were just not worth $10, even if there was a comped beer (call that $2) and a $1.50 burger. NB: Based on the recon, the burger special seems to run even during day time. If you're driving through downtown, Dames & Games is a fantastic place to stop by for a Coor's Light and a perfectly constructed mediocre burger.
Comments
comments
Post Tags:
Browse Timeline