Lacha Somtum: Thai Town's new Issan Superstar
This is going to be a long(er) read. After all, everyone got the more fun read earlier via Tasting Table.
Thai Town has been in some type of lull since Darabar Secret Thai settled into its groove. The clubby restaurant is lovely at night — to slurp khao soi, to pick at kaeng som pae sa while sipping on some scotch and juice. Pailin is still grooving along, doing its mix of Northern and Issan cuisine. Thai Town Plaza old-hand Ganda has been pushed out by Pa-Ord, and that's a downright shame. I always loved visiting Ganda later in the the evening, over Palms, over Ruen Pair. It always made me feel like I belonged with the prols of Thai Town, not the ritzy kids going to do it up at Hollywood Thai's karaoke. Alas, things ebb and things flow. Crispy Pork Gang is barely surviving, and really depends on the night crowd to sustain its insane hour (and equally insane rent). There is lip given to some other hip Thai restaurant with hip, tatted cooks, there is some lip given to some Thai-American TV personality. Emporium Thai is still trying as hard as ever to knock-off Jitlada, and Jitlada is still churning out some of the illest Thai food in America under the right conditions. However, there hasn't been much genuine excitement to really tickle the hounds.
Good thing the noshing highlight of Thai Town so far this year aren't the relocations (of the duelling Pa-Ord and Hoy-Ka, who hate each other). It's the quiet bang made by the opening of Lacha Somtum. My Thai comprehension is non-existent, except to barely discern the difference between guay jap and kuai tieu reu when listening to a native.
When I listened to Lacha's waitress' translation of the specials menu (above) board the first time, I did not flinch as it didn't sound impressive. Until I got home.
"Mushroom soup with egg" became "ant egg mushroom soup". OK. Why did she pull back the punches? From the regular menu, tamarind pork rib soup was indeed the Isan regional soup queen, tom sap. And it goes on, and on, and on. The bamboo "salad" (not under the bamboo "som tum") is the proverbial Isan/Laos bamboo salad with roasted rice powder known as soop nor mai. Kaeng om (below) is available with chopped cornish hen instead of the typical lame chicken breast.
This changes everything. And of all the kaeng oms available in LA (Cancoon, Yai, Luum Ka Naad, etc.), Lacha's reigns. This is clearly not just a papaya salad restaurant as the name claims.
Larp ped (above) is geotagged with "Kon Kaen", the education and economic center of Isan province. This larp ped is undeniable the most interesting duck larp "salad" in LA right now. The shredded duck meat carries carries a light crisp from being confited first, and is topped with the typical Isan style roasted rice powder. It is deliriously good, and at $10, is enough to serve four people during a meal as an appetizer course.
Every thing is just a bit twisted.

Out of the entire som tum menu, there are a couple of caveats, or, really intriguing things, depending on the perspective. Som tum "tum mua" can be translated to som tum garbage, or "kitchen sink". It is the most offensive of the som tums on the menu, even more so than the "combination". The chef throws bits of everything from the mis en place into the stank papaya salad (with pla ra, not with regular fish sauce), including mussel, bamboo shoot, long green bean, Thai egg plant, and rice noodles. There's no escaping the funk if one decides to actually pick from this particular plate. Everything is borderline rancid, and there's no taming the heat with the khanom jeen noodles, which are often served on the side of a typical Bangkok som tum specialist. There's something rather Pollack (or, schizophrenic and amazing) about this salad. It's like a Thai bibimbap, but avant garde and of actual culinary importance. However, like modern art, som tum tum mua is difficult to understand, especially to the typical farang Thai-food n00b. Better then, are the more "traditional" som tum Thai variations with simple fish sauce, and not fermented fish sauce. The puffy shredded fried catfish topping Thai style som tum is a great mix of two fun eats so accepted by Bangkokers — sorry, couldn't help it — these days. But why stick to Thai som tum (typically over sweetened for Thai-American palates), when there's this bamboo gloriousness:
From the som tum (which simply means "mixed") menu, this is the highlight for me. Crunchy, refreshing whole shoots of bamboo, mixed with the fresh brininess of the blue crab. The black crab version, according to the waitress, is even too salty for her. I think I chose wisely. The alternating texture of the crunchy shoots, followed by the soft gooeyness of the raw crab flesh which one had to extra from the shells by sucking and knawing, is an oral pleasure that is probably only matched in the back rooms of Thai massage parlors. Couple this with a tub of sticky rice, a plate of some larp, and a proverbial Issan-Laos lunch is served.
A typical Lao meal is eaten around a low set table, with mixed item "salads", crudites, some stews or soup (kaengs/non-coconutted curries) and some form of grilled fish/seafood. Any discussion of Lacha offering the "crab" pad Thai listed under "specialties" is basically hog wash. Lacha is also a bit short on the palate-easing soups so known in the Issan traditon. The noodle menu is also rather tame, except for one dish: the khanom jeen nam ya – basically, a Thai "dipping"/"mix-in" noodle with fish stew and crudites (dill, mint, etc.)
With the advent of canned/jarred nam ya curry paste at the grocery, and the commonality of canned tuna in America, it is ridiculously easy to make this Southern Thai dish. Jitlada's is fiercely spicy. Lacha's? Aptly named "Super Spicy". It is undeniably spicier than the kua kling curry(s) at Jitlada. I was never down with Jitlada's dynamite challenge, but this little plate of noodles offered so much pleasure, then pain, then regret, that it'll probably become the most important dish, under $10, of 2014 (besides Michael Lee's aged brisket sandwich I'm currently consuming). The sour mustard accoutrement is suppose to assist in cooling. It doesn't help worth a damn, neither does the cabbage.
Lacha also does kaeng right. The kaeng nor mai is jammed full of thickening ya nang leaves. It's also rather funky, but in an earthy, not so briny way. It's grassy, spicy, gratifying in a way no common Penang curry can ever be. Bamboo shoots is then main game here, just like soop "nor mai" (bamboo). Northwest Laos and northeast Thais must have really regular bowl movements. The kaeng om comes with hearty vegetables, and served alone over rice, makes a rice bowl that makes anything everything coming out of Chego look like stoner food for rubes. Kaeng is stew for the Asian gods. Korean ramen pots are remnants of an U.S. occupation that forced force meat onto a war-torn that just didn't know any better. One tastes of the Silk Road. The other tastes like msg-infused imperialism.
The kaeng som, typically served in LA Thai town with whole fish, is also stellar. Sourness dominates, but it's balanced with spiciness instead of sugariness. It's difficult to say which version (whether Lacha or Darabar) rules supreme, but it does show Lacha is well versed in kaeng. We should just be happy.
However, Lacha is not without bombs. The fried pork larp, a tangy, salty, crispy ball of porcine goodness at Pailin, tastes like a balled up mess of random pig parts (ear for sure). The entire noodle section is weak, without gway chap, the Laos/chinese soy rice noodle sheets so commonly found in Issan street markets. Still, what's the alternative for LA Thai food right now? Overpriced nam priks being served by tatted kids paired with shitty Thai rum carrying a 400% markup? Feh to that.
Belcampo: multi-millionaire-driven, dry-aged, grass-fed cheeseburger, Downtown
Note number 1: that's Downtown Los Angeles, not somewhere up in Marin County.
Note number 2: sorry for all the hyphens.
The face of Belcampo is ostensibly a late 30s entrepreneurial mom from the Bay Area. The money behind Belcampo, however, is really a retired-in-name-only Wall Street gentleman who sold his brokerage firm, for $1.5B, at age.. 47/48ish. Money may not buy happiness, but money buys manpower to grow good California beef.
Belcampo is a vertically integrated conglomerate. That $12.50 burger above is a from a conglomerate that owns ranches, travel resorts, 20000-sqft USDA licensed slaughterhouse and meat processing plant, butcher shops, and restaurants. You could be eating a burger produced by Hyundai, one of the nastiest chaebols in South Korea, but instead of Kraft, it's Belcampo. Thankfully Belcampo is focused on delivering sustainable protein from top-end down. Whew.
With a more than just a few million dollars, Mr. Robinson, now the chairman of Global Portfolio Advisors, a brokerage clearing house, has powered Mrs. Anya Fernald to backup Eat Real with some meat, instead of words. While Eat Real LA was mostly a tame bomb, Eat Real Oakland has expanded year over year, and Eat Real will reach Atlanta this year. But what good is a food festival when one can't get a morally compassed burger in Downtown. In comes Belcampo with all its gloriousness.
Will I eat another burger in '14 other than what is served at Belcampo? Probably not. Is this is the single most expensive 1/3 pound burger in LA? As far as I know. Does anyone know how expensive it is to own and operate a USDA certified slaughterhouse? Rancho Feeding Co. does, (and they just got shutdown by the FDA, then bought out). Will Mr. Robinson ever be portrayed in Wolf of Wallstreet, the III? Hopefully not. Should he inspire us to make millions of dollars so we can hire our own Edibles CEO and run butcher shops? Yes to the millions, no to the cow blood.
The point of this is really to demonstrate how it took takes a one-percenter to bring "affordable" sustainably raised beef to the plate. No one else is doing this in America, save perhaps Blue Hill Stone Barn. We, as Angelenos, are lucky as hell that a rich and smart man decided to pay it forward. Also, hipsters: just shut up about rich people and eat the burger. It is way, WAY better than anything coming out of Umami/Comme Ca/Father's Office.
Belcampo Meats Co.
Grand Central Market
(right next to the parking garage elevantors)
All over that social media
IG
Twitter

A. Zimmern Doesn't Know How to Use Yelp; Or He's Just Smarmy.
I'm just going to give him the benefit of the doubt (since I've never met the guy, and never watched a full episode of any of the shows) and say he's just "doing it wrong". User error, so to speak.
Back in '12, he railed against Yelp. Eater, being NY-centric, gave him air time. A year later, he's still none the wiser. In this "exclusive" Eater National coverage, Zimmern keeps going on and going on how he doesn't need Yelp, ostensibly because Mario Batali is going to know where to eat in Clearwater, FL (where I recently visited).
Is there a Chicago Magazine equivalent in San Antonio where I once found myself stuck after dinner time? And will Andrew be able to crowdsource his way to a Cubano sandwich 5 minutes after landing in Ft Lauderdale? Can Zimmern's twitter friends instantly come up with a useful map as below? (Belizean Blvd, Los Angeles)
Is the man so desperate he's still talking about a non-problem in 2014? This is my favorite from the interview:
I do not care what people — who I don't know where they live, don't know what their eating habits are, don't know what sort of expertise or standards they bring to the experience — telling me what they think of a hot dog on the street or Blue Hill at Stone Barns. It's meaningless to me.

But asking Siri Bourdain's favorite place to eat in Ontario, California is actually meaningful? Please cut us regular food-lovers some slack. By "us", I mean those who don't have 99,999 followers on Twitter. Zimmern might be "no one's food snob", because he's just a regular "presumptuous snob". Presumptuous because the host guy knows more chefs and cheftestants than the Eater interviewer. Presumptuous because the celeb foodie thinks his Twitter followers opinions are any superior than those of Yelp users.
(May I remind everyone these particular followers are interested food in a certain weird way, fetishsizing what other cultures consider cuisine norms, and generally being condescending as hell?
)
Us plebs, perhaps a trucker, perhaps a corporate consultant with a low per diem, use Yelp. We use it wisely, we use it to find gems like El Coraloense and the latest restaurant openings. Sure, it's also crowd-sourcing, but what exactly is the difference between the idiots that follow Zimmern on Twitter versus the idiots on Yelp? A hashtag? Or absolutely nothing.
Awards… errr, Food Festival Season is Here Already?
first up, LA Weekly Gold 99 Essentials on March 9. This is important because Amy Scattergood wrote the copy to the associated Squid Ink post.
And there's a French chef with his eyes barred. Also, they moved it to a different venue this year. Last year, it was at a car museum, and I was really REALLY afraid for the cars. I mean, fooding and driving just don't mix. Tickets are $45 for GA, so the early birds won't feel too bad about being baited by early bird ticket prices (which were exactly the same.) LA Weekly food critic Besha Rodell can usually be seen in-house, ready to field your complaints. Also, I might be there, to field those complaints.
=================
Second up is the way more ritzy All Star Chef Classic at "Restaurant Stadium" hosted by AEG, at LA Live. The "premiere" event is mostly sold out, save for the less exclusive Sunday March 23 lunch tasting event that's actually mostly not in the amazing "Restaurant Stadium:


One of the founders of this soiree is the inimitable Lucy Lean, who ran the last major Edible magazine franchise here in LA. That was such a brave move. Til this day I wonder what would've happened if she had a capable advertising staff. I mean, this was before Lucky Peach as a "thing". It was so sad seeing all those Edible magazines being given away at restaurants (who are mostly advertisers).
Back on track: if you're a man of leisure, the all-in (phone-in only) VIP package is available for $1250. There's plenty of time for your firm to pick up that tab. Tickets to the general admissions to the Sunday tasting is $65, including unlimited booze.
===============
Next up: Lacha Somtum is probably the best restaurant in Thai Town Los Angeles right now.
The new au coeur de Paris, Garden Grove
This is a Yelp copy & paste with a few photos thrown in. Yes, I've reverted to 2007 here in terms of writing effort. Sorry, not sorry?
As I stand here after devouring the first pain au chocolat, I'm happy Wandering Chopsticks took the time to follow the signs posted at the original Edinger au coeur de Paris to discover the newly opened branch in Garden Grove. There are no signs facing the street whether coming from North or the South. There is no plaza signage either. But those who frequent Vietnamese boobie cafés will immediately recognize this plaza as the one shared by Cafe Di Vang II.
While the Register tells us this branch is manned by the baker instead of pâtissier, the pastry cases are still replete with all the offerings at branch 1: check out the massive Paris-Brest, the affordable chocolate croissants, the 10 flavors of macaron, and the banging bargain that is the $.50 palmiers.
Basically, if you love things like the Gayet-Hollande affair, Nabilla Benattia, and Luc Besson films, you'll love this place. Au coeur makes me so happy the French invaded and colonized Vietnam. Without it, we wouldn't have banh mi, and cheap pastries in Little Saigon.
Of note: the shop closes at 4pm, so if you come later in the day, the pate chaud, one of the most popular savory items at the original shop, will have been hibernating under the heating elements for 8 hours. It's still tasty enough, but best go early.
…..
Since that earlier entry, I've returned to au coeur a couple of times to taste more of the pastries. The macarons here have a weightier filling, not as fluffy as say, Bottega Louie. Then again, macarons come and macarons go, and they're just not as satisfying as a fantastic apple tart, which au coeur de Paris does have. The weightier custard word better in the eclair, so opt for that over macarons. Eclairs over macarons, always and forever. Nevertheless, the true gems here are the pate a choux and pastry dough. At $3.50, the cinnamon apple tart is a banging bargain, as is the $0.50 palmier, as is the $1.50 pain au chocolat and the $1.50 Vietnamese-French pate chaud hybride pastry.
The fact au coeur de Paris is also only 1 block away from one of Garden Grove's best vietnamese "coffee" shops is just the proverbial vanilla custard on top of cronut.
au coeur de Paris
14221 Euclid St
Unit B
Garden Grove, CA 92843

Parrain's Soulfood, Paramount and a Quick, Belated, Resolution
It seems fitting to always devote the first post of the year to soul food. Soul food isn't too big in LA. You don't have ex-Manhattanites shitting themselves over gumbo like they do over a plate of shredded chicken and rice.
Hopefully, some form of cosmic balancing must be achieved through this post. Parrain's is run by a cook from ex-Louisana. You'll see him on the fryer when you come in during lunch. This is because the only lunch special officially listed at Parrains is the 2-piece chicken dinner. But there's also Creole here. Witness the weekend-only gumbo (which officially is on offer by noon on Friday).
Coming here just makes me feel good. There's so much pride in this restaurant despite the awkward layout that wastes too much space, despite the lack of a real sign, despite the dinginess of the neighborhood. I've been here a few times now, and every time they've treated me nicely, warmly, just like Bludso's did back in 2007, just like Hambone's did back in '13. Relative to the curt experiences typicall being dished out by the SGV carb houses, every customer ought to feel like a king here.
The menu isn't perfect just yet. There are only dinner portions, unlike majority of soul food restaurants hanging out between the 605 and the 405 (but always south of the 10). The dinner portions feed me for two meals. The specials, however, are key here. Sometimes it will be fried turkey chops, sometimes it'll be shrimp poboy. Always ask as they are often a bargain. But turkey chops.. Wow! Does it get more Southern than this in LA? How many other restaurant in LA serves a fried turkey chop? (Carolyn's, Mama Joan's, etc.) And how many serves a fantastic BEP to go with one of the best corn breads in Los Angeles?
Parrain's Soul Food
Paramount
=====================
Also, in addition to still not eating any Huy Fong, it is necessary that I do not frequent any restaurant featuring "bespoke", "artisanal", "designer" $100 denin aprons that looks anything like this:
Unless you're a furniture wood worker, or a machinist, don't wear denim aprons. They don't absorb for shit, so please don't pass the cost of $10000 in custom denim to us eaters. I'm OK if every server in every restaurant just wear $12 gap polos and $25 Levi's. It doesn't take $100 denim to make my food/dining experience better. Really. Bugger off with that craziness. No one at Parrain's is wearing a $100 denim apron.
Not that I fish, but…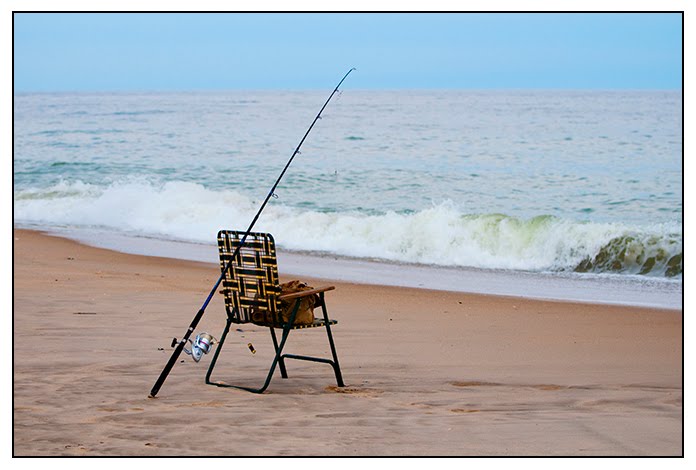 Ten Crappy things I Ate During 2013
Mariscos El Diablo
4501 South Alameda St.
Los Angeles, CA 90058
==========================
Al Carbon tacos in East LA. Just because it's made in East LA doesn't mean it's tasty. These carne asada tacos, grilled instead of griddled, were nothing but grizzle and tears. They were cheap, and they were cheaply made. O wait! They've closed? Great!
Apache Tacos
1843 E 1st St
Los Angeles, CA 90033
==========================

Sandwich Smith.
Sandwich Smith, Little Tokyo.
Offered corned beef on the specials board, but no rye. I mean, what kind of cook would offer corned beef and no rye bread? A Korean team, of course. The fried chicken sandwich was sad, dry desert. For $9, every sandwich from Claro's trumps this disaster. For a few dollars more, Mendocino also obliterates the menu here. And the equally expensive fried chicken kale salad? Tough, bland, and carrying the same sad fried chicken breast as the sandwich. What a freaking Little Tokyo tragedy.
==========================
Gaju/Kaju, Ktown.
Crappy "home style" Korean food. Everything reeked of MSG and generic gochujiang paste. The panchans were pathetic, and had nothing but vegetables. This place is supposedly known for kimbap, and it's also supposedly known for dukbboki, AND it's supposedly known for naeng myeon. What is it actually good for? Absolutely nothing. It used to be in food court, and charged a lot less. Now, the only thing to do with the pathetic kimbap is to dunk it in the dukkboki sauce. Check it out, anyone can be Roy Choi!
Yelp entry 1
Yelp entry 2
Yelp entry 3
==========================
Read more…